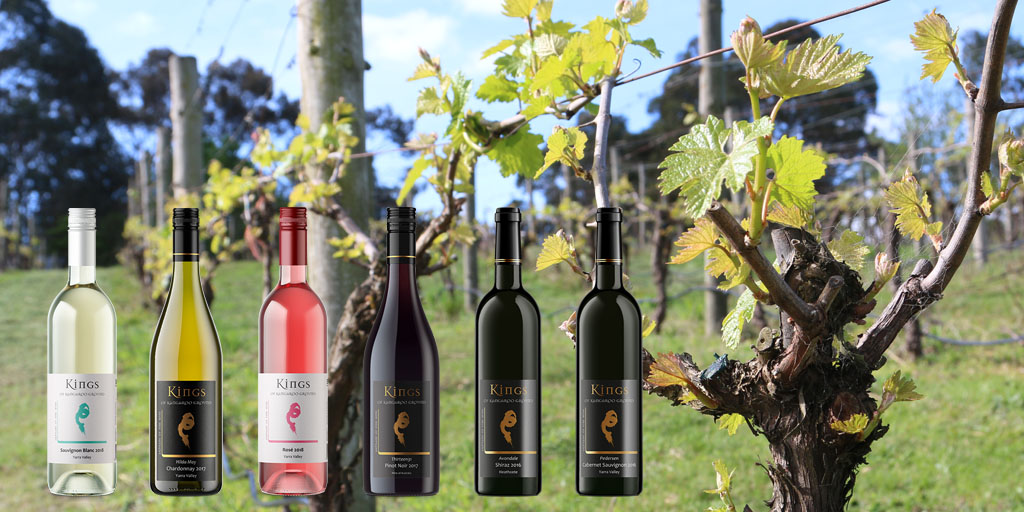 17 Oct

Spring 2018 Releases

Spring has finally arrived in 2018 and it's new releases time, with our biggest ever range of new wines just in time for Open Cellars this weekend … including a couple of first ever wines for the Kings lineup.

All the new wines will be on tasting this weekend at Open Cellars (www.opencellars.com.au), with our Cellar Door open on Saturday 20th and Sunday 21st from 11am to 5pm.

2018 Sauvignon Blanc

A brand new wine for us made using local Yarra Valley fruit from a vineyard near Healesville. This is a full flavoured wine that is driven by lovely tropical fruit flavours with crisp zingy finish. Nothing fancy here, just a fresh and lively white wine for summer that is a great addition to our range.


2017 Hilda May Chardonnay

The Hilda May is back, classic Yarra wooded chardy made from estate fruit in the black volcanic soils of Kangaroo Ground. This vintage is barrel fermented so the varietal characteristics are complemented by sweet spicy oak aromas. Only recently bottled so will take a few months to settle down and show it's true colours.


2018 Rose

Another new wine, rose made in the blush style, a blend of 20% estate Pinot and 80% Chardonnay combining for a crisp summer wine. The wine has light berry and floral notes on the nose, with a lovely fruity palate and lingering finish. This is going to be fabulous as a chilled wine for a hot summer afternoon with some bikkies and cheese.


2017 Thirteen31 Pinot Noir

A new vintage of our estate Pinot Noir, similar in style to the very popular 2016 Pinot, perhaps will slightly sweeter fruit as a young wine. Another classic expression of south facing vineyard for Pinot Noir, a full rich palate with just a touch of Pinot funk already starting to appear.


2016 Avondale Shiraz

Our ever reliable Heathcote Shiraz, another classic vintage with the wine showing a full nose of dark berry fruits and spicy oak, followed by a rich palate with wonderful mouthfeel and soft lingering tannins. Two Silver medals from wine shows this season, including some tough competition against it's peers at the Heathcote Wine Show.


2016 Pedersen Cabernet Sauvignon

Our flagship Cabernet, this vintage from the Di Paolo block in the black volcanic soils of Kangaroo Ground. Picked quite late to allow the full varietal flavours to develop, which results in lovely mocha and chocolate notes that support the traditional Cabernet flavours. Still a young wine, awarded a Gold medal at the 2018 Melbourne International Wine Competition.

All our new releases will be available in our Shop early next week.